"What is so fascinating about sitting around watching a bunch of pituitary cases stuff a ball through a hoop?"
I've always seen this as a quote on Basketball. Or rather, an insult on Basketball. It's from the movie Annie Hall by Woody Allen. To me it's also a quote about Liberal Editing. I call it that because every reference or graphic that has that quote fails to post the answer to the question, which Woody Allen answers in the movie:
"What is fascinating is that it's physical. You know it's one thing about intellectuals, they're proof that you can be absolutely brilliant and have no idea what's going on."
When I looked for this quote online, the second part is always left out.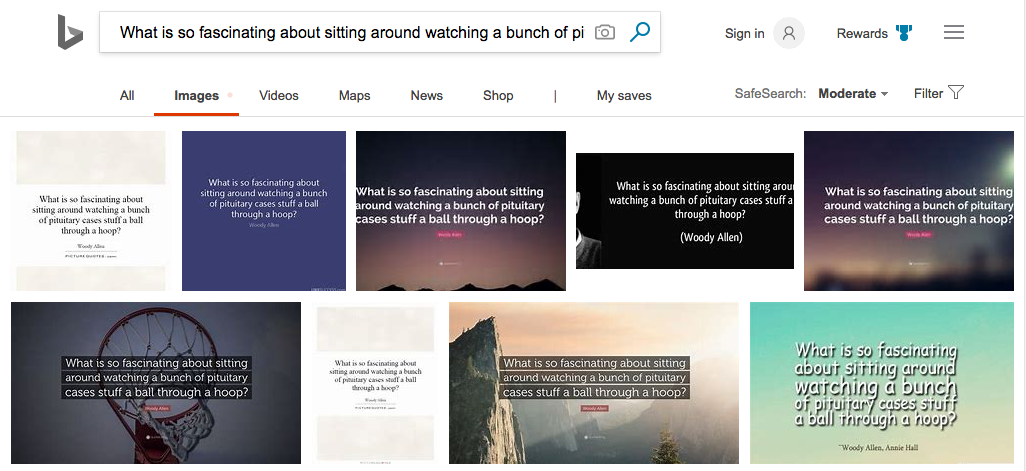 And I think it's left out because it's difficult to decide whether you're: 1) a dumb person who watches pituitary cases stuff a ball through a hoop or, 2) a really smart person who has no clue what's going on. Liberals definitely don't watch pituitary cases stuff a hoop. Better leave the second part of that quote off.
Now Woody Allen says 'intellectual,'  not liberal, in the movie. I guess that's my bias towards intellectuals being liberal. That's probably not true, but then it's not funny. Well, to me anyway.
"They say that nobody is perfect. Then they tell you practice makes perfect. I wish they'd make up their minds."—Wilt Chamberlain